Learn How to Give Your Vectors an Authentic Hand Drawn Look


An easy-to-follow method on how to retain a hand drawn quality to your vector graphics - a contemporary look your clients and customers will love!

Learn a technique you can apply to any subject matter!
I've spent many years experimenting with ways to incorporate texture into my work that's simple and effective. You'll learn a step-by-step technique I use to create my commercial illustrations.
This technique has proven to be the most versatile, allowing flexibility and control over how much texture you add to your work.

Strengthen your Adobe Illustrator knowledge
The infinite scalability of vectors makes Adobe Illustrator one of the go-to apps for creators. It can however produce work that looks computer-generated and less like hand drawn artwork.
In this class I'll show you how to create whimsical illustrations packed full of hand drawn goodness and wonderful texture.
You'll learn my tips and tricks that I use in Adobe Illustrator including three power tools that'll save you loads of computer time.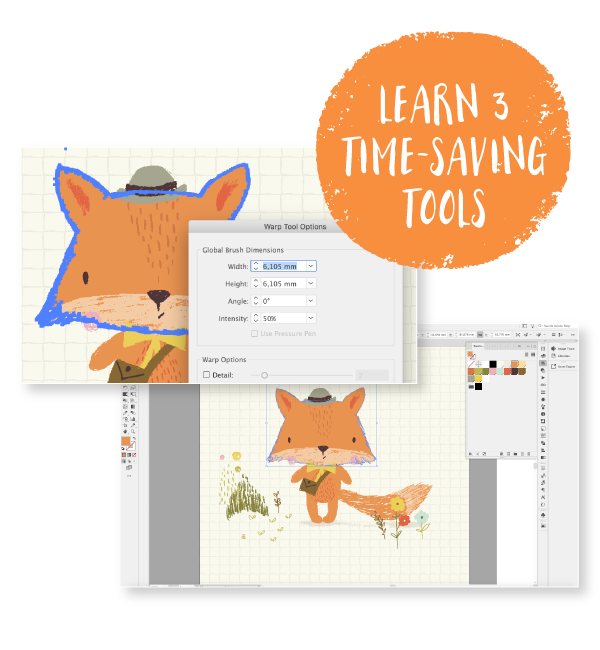 These fun techniques can be applied to any subject matter, a skill you'll take with you,
and actually use
throughout your creative journey.
Here's what you're getting when you sign-up for class
9 Video lessons you can watch at your own pace
My workflow I us to create actual artwork I sell to clients
Unique Adobe Illustrator tips most users don't know about
Lifetime access to the course, plus I respond to all questions within the course.
You'll learn:
How to use simple shapes to create almost any animal!
How to harness the power of layering for great texture results
Three power tools in Adobe Illustrator that will save you loads of time
The best texture settings for Image Trace in Illustrator
Techniques you can apply to any vector project!
So much value included.
Get this course today for only $39!
One-time payment for lifetime access!


"OMG! What an outstanding presentation. I have been doing a similar technique with pen and ink in AI and Lisa blew me away with tips I have never heard of. Thank you for being so generous in sharing your techniques. In addition, the class was succinct but still detailed enough to clearly follow along and entertaining too! 10 stars!!!"
– Sabrina Hoek –
"Loved the technique! amazing tricks to give the hand drawn texture. It actually gives a beautiful quality.The shortcut you showed are also new to me. Loved this class"
– Dherrya Parikh –

Frequently asked questions
Who is this course for?
This course is for anyone who wants to learn how to retain a hand drawn quality to vector artwork.
We'll be using Adobe Illustrator to complete our project so a bit of Adobe Illustrator knowledge is recommended. However, if you're new to Adobe Illustrator this class is also perfect for wetting your feet. Remember you can watch, rewatch and pause any of the videos at any stage.
Do I need to be able to draw animals?
No, not at all! I'll show you a step-by-step method that even beginners can follow along to. We'll be drawing a super cute fox using very basic shapes. I'll show you an uncomplicated approach to drawing an adorable character. And remember, this technique can be used with any subject matter, not only animals.
Do I need any supplies or special software to take this course?
Yes. We start with sketching out our character with pencil and paper, then move onto Adobe Illustrator. Here's a list of supplies used in class:
Paper - 80gsm bond and 46gsm layout paper or tracing paper
Graphite pencils - 2b and 4b
Scanner
Adobe Illustrator - required for the Image Trace function
Optional: light box or your window - you can use tracing paper instead.

Can I use Affinity Designer instead of Adobe Illustrator?
Unfortunately not. At the moment Affinity Designer doesn't have the Image Trace function needed for this class. But I've read they are working hard to include that feature soon in their software.

When does the course start and how long do I have access to it?
You can begin right away! You'll have life-time access to the course immediately after purchase. The course is self-paced so you can comfortably work at your own pace.
Feel free to slow the video down, pause and rewatch. We all learn at our own pace. I recommend watching me sketch first to get an understanding of the technique, then replay and sketch along with me.
I have a question, where can I get in touch with you?
Pop me an email anytime to [email protected]. During the course you can leave your questions under the video lesson and I'll respond as quickly as possible. I'm always happy to help!
What if I'm not happy with the course, can I get a refund?
I want you to be happy with your purchase and enjoy the course. But if you're unhappy for any reason I offer a 30-day money back guarantee. If you've watched less than 50% of the course and don't like it, just send me an email within 30 days of your original purchase date and I'll give you a full refund. No hard feelings!